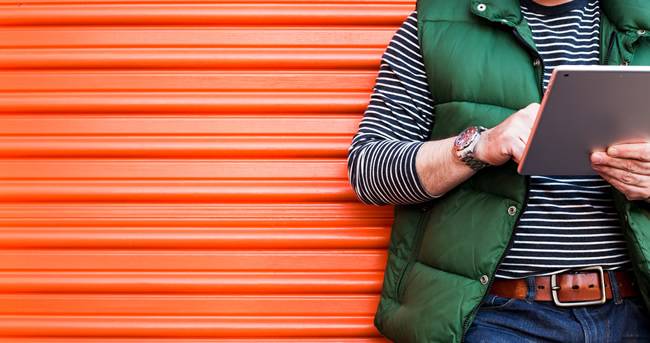 At Heaver Bros, we have some useful advice on storage unit organisation in Exeter. You may think you need to invest in a bigger space, but it may be strategic packing that you need to look at. We have many years' experience in the industry and over the years have found great ways to optimise space, so read on to find out for yourself.
Storage Unit Shelving
A useful way of making the most of your space is to invest in storage unit shelving. They have many benefits including: making the unit look neater, clearing floor space and safely stacking valuable items. Remember to make the most of your vertical space as well as the ground. Shelving can be used to break up sections and create walkways – doing this also gives a less claustrophobic feeling if you are holding a lot of items.
It's useful to label boxes and shelves so you don't forget where anything is. You could also make a diagram of the floorplan too if you have one of our larger storage units, to save you running around looking for the right section.
How Can I Organise My Self Storage?
Placements of boxes and items is important for organisation and you should base this on importance. For example: place items you aren't likely to use for a while at the back and ones you use regularly at the front, so they are easily accessible. This helps too if you are in a hurry and saves you rummaging through everything in a panic, resulting in a big mess to clear up later.
Taking apart large items such as wardrobes, beds or chairs as these can take up a lot of room or can be awkward to stack. It may work temporarily to place things on top of them but if you find yourself needing those items, you'll have to move everything around to get to them.
Use walls to your advantage too by installing hooks or mounted shelves. Possessions like clothing, ropes or smaller, frequently used items would be best stored here and are a good use of vertical space. However, be sure to check with the unit owner before you make adaptations.
Storage Unit Sizes Exeter
If you've found yourself trying all these solutions yet are still struggling with space, it may be time to look at our different storage unit sizes in Exeter. At Heaver Bros, we have a range of options for expanding (or even decreasing) your space to fulfil your needs. Call our team today for quotes or advice on what you should do. It's best to have a comfortable amount of room to store your belongings so you aren't dreading every time you've got to retrieve something!
Heaver Bros Exeter
At Heaver Bros Exeter, we offer practical and secure storage space to cater for any needs you may have. We offer advice on sizes that are best for you and how you can make the most out of what you have. So, if you are interested or to receive a free quote, be sure to call our team today.