Crane hire in Devon can be hard to find. They are necessary for lifting and lowering heavy materials on construction sites, and therefore hiring them can be a hassle.
Heaver Brothers Ltd can help. Our crane hire comes at a competitive price for all areas of Devon. With a variety of cranes to choose from, contact Heaver Brothers Ltd on 01392 447747 or visit our website for further details on crane hire in Devon and quotes.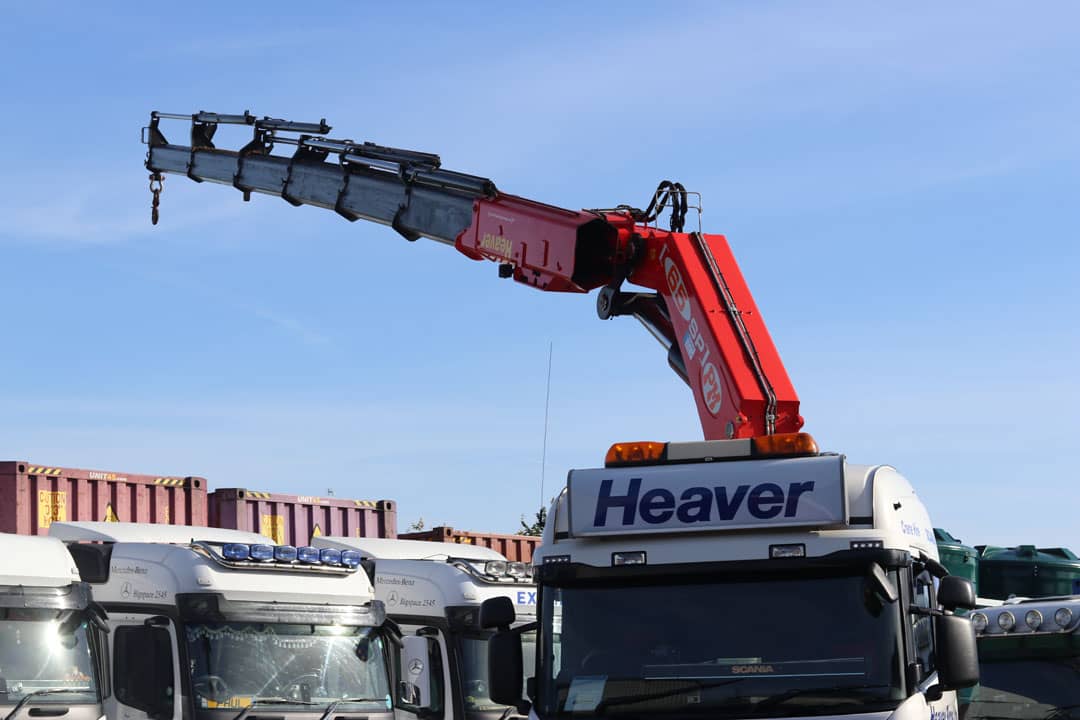 Crane To Hire
Our crane to hire supply across the South West of England is the perfect solution for your construction needs. Cranes are one of the most important pieces of machinery on a construction site. So we made sure we provide a wide selection that suit all your needs.
Hiab Cranes
Our Hiab cranes are a perfect solution if you are looking to get the most out of your crane hire in Devon. They come fully insured, lorry mounted and are operator driven by experts. These are perfect for quick loading and oversized loads for the bigger builds.
Lorry Mounted Cranes
We at Heaver Brothers know how important lifting and shifting is on a building site. Our lorry mounted cranes come equipped to deal with heavy loads. The fleet we provide come in an variety of sizes:
18 tonne metre/28 tonne metre/37 tonne metre/47 tonne metre and 66 tonne metre lorry mounted cranes.
We have accounted for all sizes of cranes as we know how vital the right equipment is. And to further that – our 50 years' experience in the industry should come in handy in you have any questions regarding crane hire in Devon !
Trusted & Established Experts
You need trusted & established experts on any construction site. But If you need someone for a job as important as crane operating, choose Heaver Brothers.
As discussed our 50 years industry experience has made us one of Devon's leading haulage company's. Our goal is to always offer speedy service so that you can proceed with your construction ASAP. We can have a Hiab crane with you in 24 hours with our emergency response service, at any location in Devon.
We understand that you need  trustworthy crane hire. And we are always looking to help in any way we can.
Whether it's advising you on the size of crane needed for the job, or details about our trained operators, we can assist you.
We have worked with numerous construction company on a variety of jobs, both small and large. And to top it off, we offer affordable & competitive prices on all our Crane hire in Devon with no hidden costs !
So don't hesitate to contact us today for thorough customer service and reliable cranes.

Crane Hire Company Devon
Next time you are in need of a crane hire company in Devon that delivers on promises, choose Heaver Brothers. We are always looking to go the extra step for our customers because we of all people know how ordered a construction needs to be . Our fast South west delivery and trusted crane operators will help to make sure the job is completed on time and to your requirements.
And … If you're lucky to be living in the Exeter area, our Hiab or Lorry mounted cranes can be with you that day – as our depot is located there !
So whether its crane hire in Devon, advice or even haulage needs – use the Heaver Brothers.