When it comes to quick and efficient haulage solutions there aren't many machines better than a lorry mounted crane or HIAB. Able to lift heavy objects or large pieces of equipment, these machines are great for transporting items around a building site or for longer distances.
Our HIAB hire is ideal for small or large projects, with many different sized HIABs available there is no haulage job too big or small. With our vehicles being able to lift and transport anything from shipping containers to large amounts of material. What makes these vehicles stand out in the haulage industry is just how versatile and hard-working they are. Being able to be used as a crane to move things in close proximity to itself and also prop up taller structures such as roofs, as well as to transport materials long distances.
What Is A Lorry Mounted Crane?
A lorry mounted crane is a large truck vehicle that has a specific crane mounted to it. Along with a standard cab, the crane is typically mounted straight behind it with the rest of the trailer used to place goods for hauling.
Depending on the size and capabilities of the vehicle, it may have 4 – 8 wheels necessary for keeping the vehicles stable when being used. Used primarily to load and unload heavy goods from the storage area, the crane can vary in height and weight capabilities to cope with different loads.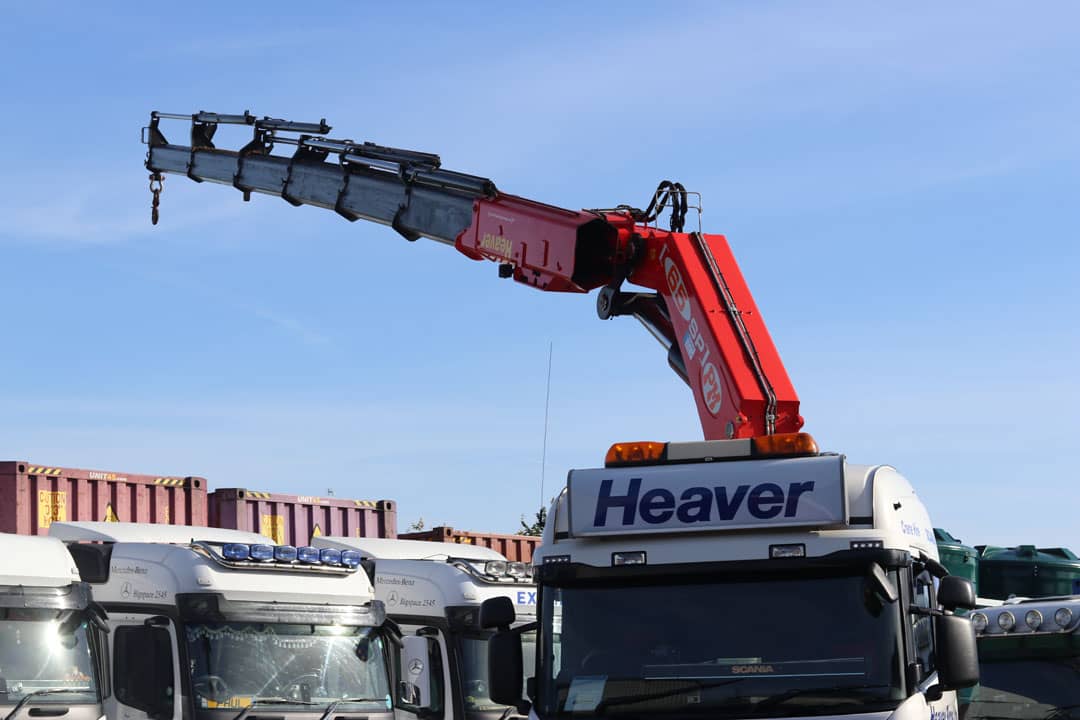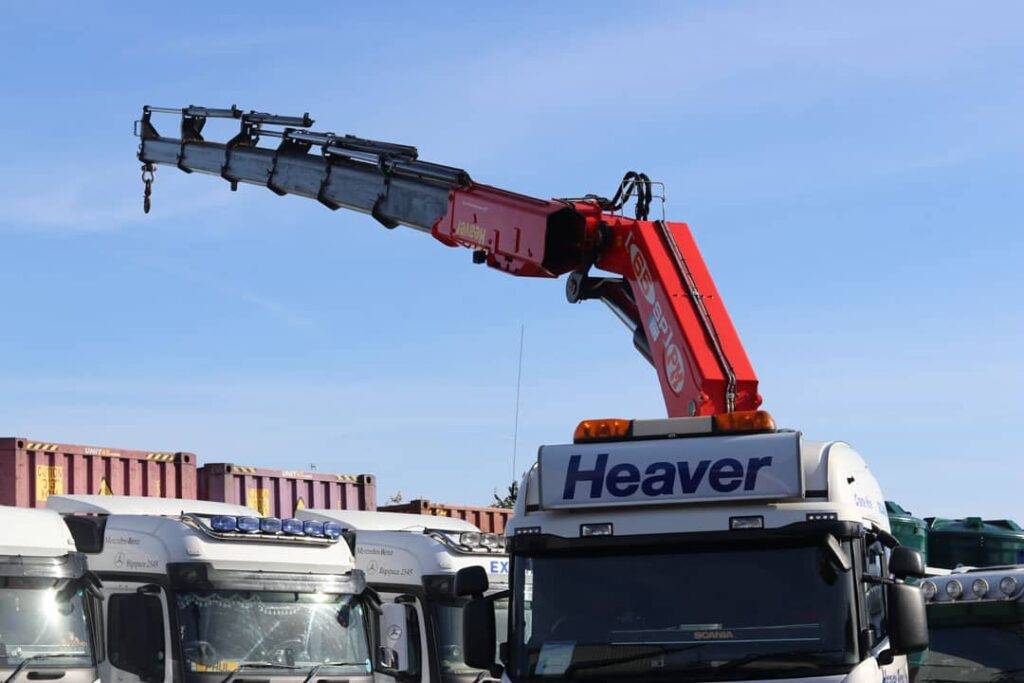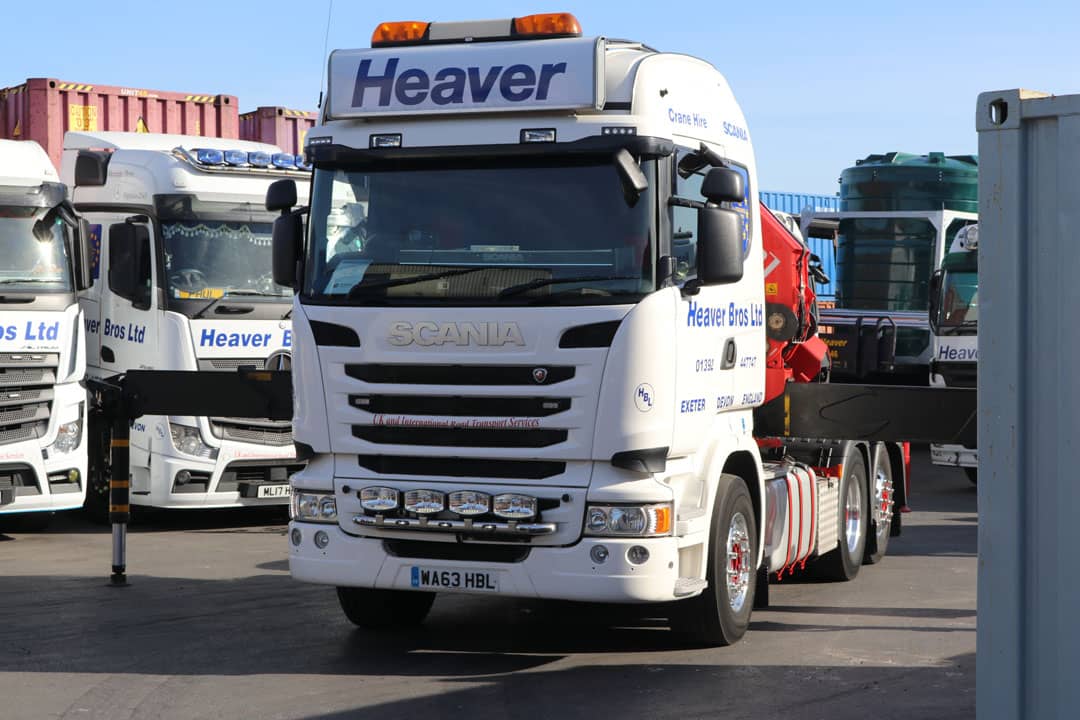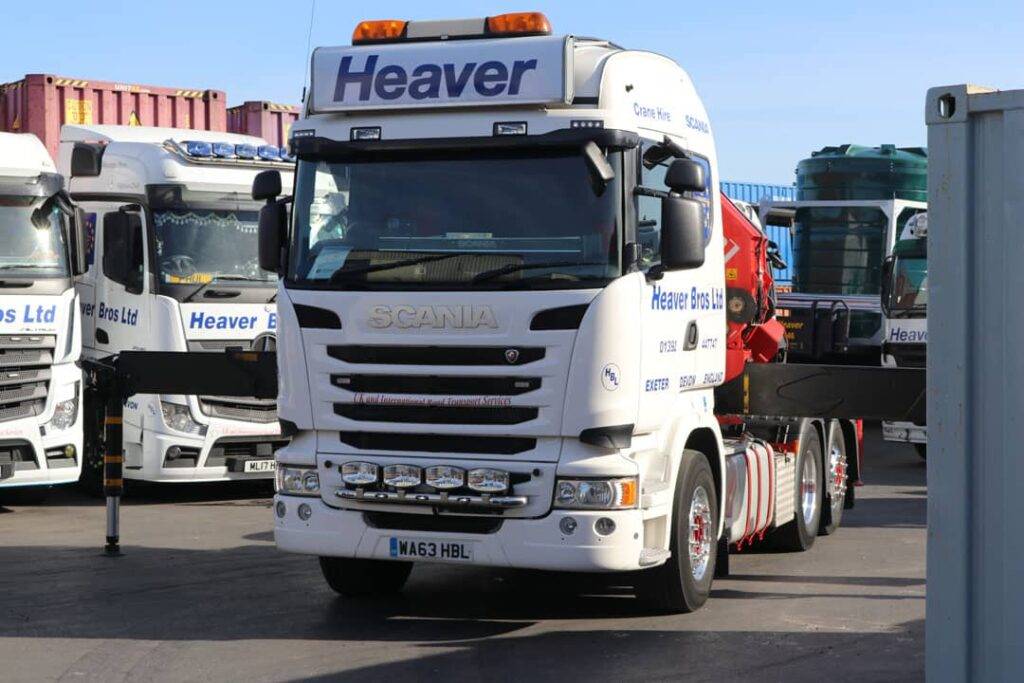 Our lorries have been used for many various haulage and construction projects along with our experienced team of drivers and operators. Typically our vehicles are used to transport self-storage containers and materials for projects however they can be used for lifting and transporting abnormal loads too such as boats and heavy machinery. Being as versatile as they are, these vehicles can be extremely useful in many different industries.
From building materials such as large stacks of bricks to timber frames and more, a HIAB is an essential piece of equipment on any building project for transporting materials either around your building site or from your supplier to the project area. Easily self-loading and unloading making the whole process fast and effortless.
As well as transporting materials, they are great for carrying smaller machinery too such as small diggers. The crane can be used to place prefabricated structures in place in hard to reach areas too. This could be roof structures that can be difficult to reach without it.
One of the main functions of a HIAB is its ability to haul goods of all different shapes and sizes easily. This is why they are the preferred choice for hauling cargo shipping containers and loading them into smaller freight ships. Being self-loading & unloading lorries they are ideal for minimising the amount of equipment needed for haulage jobs.
There are many more applications for these lorries making them a firm favourite in the haulage industry as a must-have for any project.
What Are The Advantages Of Using A Lorry Mounted Crane?
If you are still unsure whether a HIAB is suitable for your project, we have outlined some of the key advantages to hiring one.
These vehicles are extremely maneuverable meaning they are great at moving large or cumbersome objects into small or tight spaces on your site making it much easier to position heavy goods in harder to reach areas. Due to the crane being able to rotate 180° & some models being able to rotate a full circle, means they can load and unload both sides of the vehicle.
It isn't uncommon when hiring a HIAB that it needs to be built and set up once it arrives. However, when hiring one of our HIABs once it arrives it is ready to work.
We can't emphasize enough how versatile and flexible our HIABs can be for your project. Combining the ability to load and unload heavy goods as well as transport them and the functions of the crane to reach taller areas means that these vehicles are entirely multi-purpose.
Contact Us About Lorry Mounted Crane Hire Exeter
For More Information on crane hire in Exeter and the surrounding area, then contact our expert team. We are happy to answer any questions you may have. To hire a HIAB call us on 01392 447747.